The area around Tyinholmen can offer fantastic top touring terrain with unique skiing experiences. Randonnè and mountain skiing enthusiasts will frolic! Here are 5 suggestions for nice day trips starting from Tyinholmen: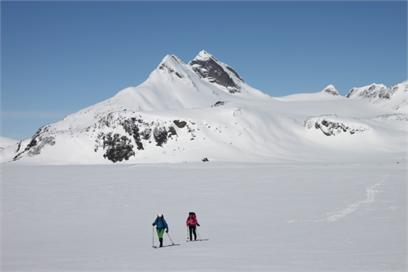 Uranostind 2157 m.a.s.l
The classic on skis! Great day trip with an almost continuous descent to Tyinholmen! Steady climb up the glacier. Feel free to put the skis down before going up the main peak. Exposed and airy above the edge towards the cairn. Many therefore choose to skip the last passage. Estimated time 8 hours. Uranostind can also be combined with the trip over Langeskavlen and Langeskavltind. Known as the triple!
Langeskavlen 1878 masl and Langeskavltinden 2014 masl
Long ridge east of Uranosbreen. Popular ski peak on good weather days. Unique view over the whole of Jotunheimen. Descent from the top of Langeskavlen to the bottom of Uranosbreen. Or choose to go up the last ridge towards Langeskavltinden. Descent the same way as from Langeskavlen. Estimated time 7 hours
The Koldedal glaciers
Nearest mountain range to the west and many skiing opportunities in this massif. From Tyinholmen, go straight across Tyin and into the foot of the glacier. Steady ascent to the top of the glacier before a final bit turns to the west and peak 1822. Increasingly popular peak among Randonnè enthusiasts. Estimated time 6 hours.
Breikvamsnosi 1720 m.a.s.l
Characteristic peak at the entrance to Koldedalen west of Tyinholmen. Great continuous descent down to Tyin. The snow stays for a long time on this flank and great skiing experiences are possible well into June. Estimated time 5 hours.
Galdebergtind 2075 m.a.s.l
East of Eidsbugarden. Great ski peak that provides 1000 continuous meters of descent from the top down to Bygdin. Pass steeply and several possible accesses via the west flank. Estimated time 8 hours