Conference in the high mountain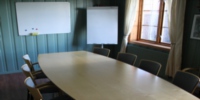 Tyinholmen has excellent conference facilities.
We have meeting rooms with capacity of up to 14 people. Our banquet hall can easily be reorganized to handle up to 70 participants. We have data projector to lend, as well as other necessary equipment that is a prerequisite for a successful conference.
Contact us for more details and request a quote from us.
You will not find more beautiful and more stimulating surroundings!